Getting You Organised for 2019

Shop Back to Work Offers by Category
Getting organised can not only help kick-start your return to work, it also keeps you focused on your goals and will help you feel cool, calm and collected as you enter 2019.
Take advantage of our exclusive Back to Work offers including general office supplies, office furniture, technology, cleaning and kitchen supplies to ensure your office is well-stocked and you and your staff can return to work with everything needed to be productive and organised.
Back to Work offers expire 28th February 2019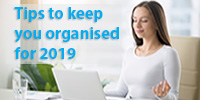 Back to work: Get Something Free With Your Purchase

Promotion Terms
Prices may be subject to change at the discretion of COS.
All prices quoted are valid from 14/1/19 to 28/2/19. 
All prices quoted are exGST.
Bonus items are while stock lasts.