July 7 is World Chocolate Day and we couldn't be more excited. Before you break out that sweet chocolate bar or trusty brownie recipe, why not surprise your taste buds with some new flavours – with these 3 Unusual Chocolate Recipes.
The History of Chocolate
Chocolate is produced by roasting and grounding cacao seeds. Archaeologists have traced the roots of our favourite treat all the way back to the ancient Olmec civilisation of southern Mexico – more than 3 and a half thousand years ago! This lost civilisation left no written records, but traces of cacao have been found in the pots and drinking vessels they left behind – showing that these ancient people were fermenting, roasting, and grinding cacao beans for drinking thousands of years ago. This practice was passed down through history all the way to the Aztec civilisation, who believed that cacao was a holy plant given to them by the gods. In Aztec culture, cacao beans were used in religious ceremonies, and as a currency considered more valuable than gold. It was there that chocolate was first encountered by Europeans, sparking a craze that swept across the world and has lasted to this very day. Today, roughly 70 percent of the world's cocoa is grown in tropical West Africa and sold to Germany, Switzerland, Belgium, the US, and other countries that produce chocolate. Cacao is still an important aspect of traditional religious ceremonies in Central America – but has become well-loved by every nation on earth.
The Health Benefits of Chocolate
While you may think that chocolate is a 'cheat day' treat, chocolate in its natural state isn't actually a sweet. With an earthy, bitter flavour, chocolate packs a punch of energy and is well known for its numerous health benefits. Did you know that cacao contains more caffeine than coffee? In addition to providing that kick of energy you need to get up in the morning, cacao is packed full of something called flavonoids – nutrients which lower blood pressure, improve blood flow to the brain and heart, prevent blood clots, and lower your risk of diabetes. Good news, chocolate lovers! You don't need to feel guilty about your chocolate cravings. You can add cacao to your smoothies or mix it with your oats or chia pudding for a healthy breakfast! And, if you're feeling a bit adventurous, here are 3 Unusual Chocolate Recipes to Celebrate World Chocolate Day.
Mole Poblano Sauce
Here is a traditional Mexican dish to keep in the theme of chocolate's historical birthplace. The story goes that one day, in a poor remote convent of colonial Mexico, the nuns were told that the archbishop was coming to pay a visit. Realising that they had nothing to cook, the nuns pulled together a mix of European and Indigenous ingredients – a little bit of all the ingredients that they could find. They threw together nuts, chili, spice, day-old bread and chocolate, and called it 'mole' – meaning sauce. They went out and killed a chicken, cooked it, put the sauce on top; and the archbishop loved it! Because of this almost mythical origin story, the dish has become a legendary symbol of Mexico's mixed Indigenous and European history.[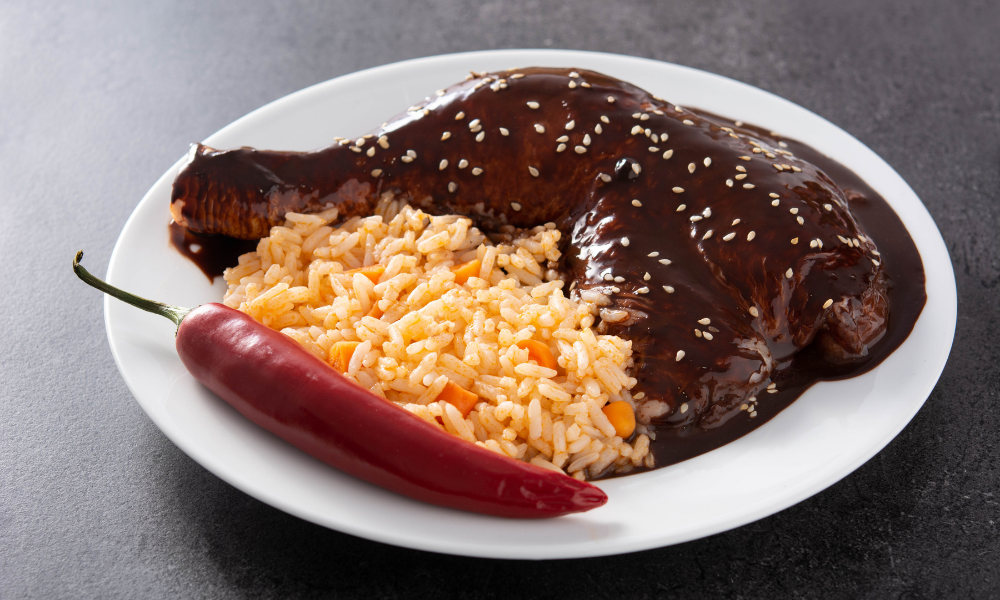 Serves 4 to 6.
Ingredients:
6 medium to medium-large dried ancho chilies
½ tbspn sesame seeds
3 tbspn blanched slivered almonds
2 tbspn raisins
1 cup chopped white onion
½ tspn cinnamon
½ tspn dried oregano
2 to 3 cups chicken broth
2½ tbspn olive oil
1 tspn sugar
½ tspn salt, or to taste
2 tbspn Mexican chocolate, finely chopped (available online)
Cooked chicken
Method:
In a frying pan, heat chillies over medium heat for 20-30 seconds on both sides until soft. Discard stems and seeds, break into small pieces, place in a bowl and cover with hot water for 30 minutes.
Heat sesame seeds in frying pan over a medium heat until golden.
Drain chillies and place in a blender. Add sesame seeds, almonds, raisins, onion, cinnamon, oregano and ½ cup of the broth. Blend until totally smooth, adding more broth if necessary.
In a medium-sized pot, heat oil at a medium heat. Add sauce and cook, stirring constantly, until thick. Then slowly add the rest of the broth and sugar. Simmer until thick, about 15 mins. Add salt and chocolate and mix.
Serve over cooked chicken with rice.
Vegan Sweet Potato Chocolate Cake
A variation of the kitchen classic, this sweet potato chocolate cake is a more exciting alternative to your standard chocolate cake, and totally vegan. While sweet potato hasn't quite made it into the mainstream here in Australia, sweet potatoes are a beloved staple across the world, especially in Asia. The global reliance on sweet potatoes began in the Americas – in fact, sweet potato, like the cacao plant, is another delicious plant that originated in ancient Mexico. But modern sweet potatoes are actually a genetic mystery, a distant relative of the standard potato which caught a soil bacteria that caused edible growths to form in the roots of the plant. It is also a mystery how they first spread across the world. The humble sweet potato was found in Polynesia way before European exploration, prompting the theory that ancient Polynesian seafarers sailed across the ocean to the Americas and brought sweet potato cuttings back home!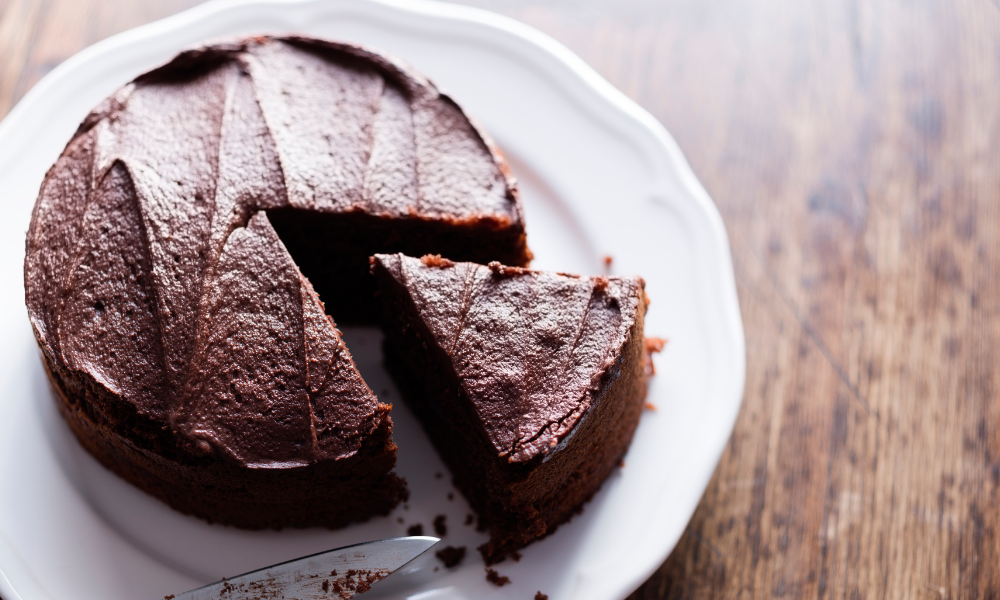 Serves 1 medium cake.
Ingredients:
¾ cup peeled, cooked, and cooled orange or yellow sweet potato
½ cup plus 1 tablespoon water divided
¼ cup pure maple syrup
1 tbspn balsamic vinegar
2 tspn pure vanilla extract
1 cup whole-grain spelt flour
⅓ cup coconut sugar
¼ cup mini or regular nondairy chocolate chips
½ tsp scant sea salt
¼ cup cocoa powder
1 tspn baking powder
1 tsp scant baking soda
Method:
Preheat oven to 175°C. Lightly coat a 20cm x 20cm cake tin with oil. Line with baking paper.
In a blender, puree peeled, cooked, and cooled orange or yellow sweet potato. Add ½ cup of water, Add maple syrup, balsamic vinegar, and vanilla extract until completely smooth.
In a large bowl, combine flour, coconut sugar, chocolate chips, and sea salt. Sift in cocoa, baking powder, and baking soda.
Add the wet ingredients to the dry, and mix. Transfer cake batter to the prepared cake tin.
Bake for 21–23 minutes, and cool before serving.
Homemade Chocolate Pasta
In yet another surprising dinner-party pleaser, cacao adds a slightly bitter but delicious flavour to classic Italian homemade pasta. You can top with chocolate sauce, fresh berries and goat's cheese for a sweet dessert, or you can opt to create a savoury dish by whipping up a creamy mushroom sauce. Despite what you may think, this recipe is not a new invention. Chocolate was first introduced to European taste buds through Spain after the Spanish Conquest of Mexico. It may surprise you to know that Italians have been adding chocolate to classics like pasta, risotto and meat dishes for centuries!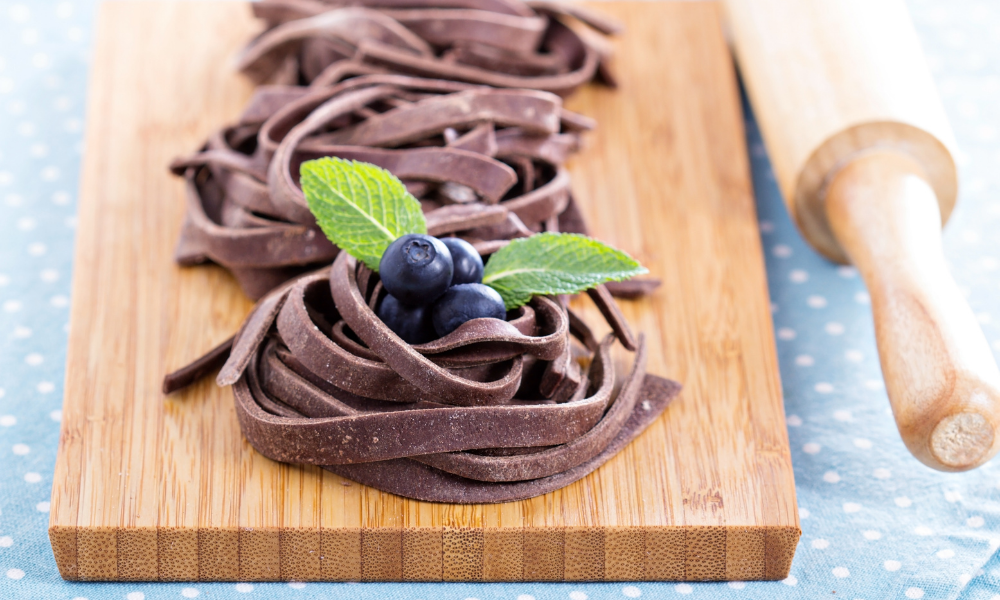 Serves 4 to 6
Ingredients:
1 ¾ cups all-purpose flour
¼ cup cocoa powder, plus more for dusting
2 large eggs
1/2 tspn salt
1 tbspn extra-virgin olive oil
Water, as needed
Method:
Whisk together flour, cocoa powder, and salt.
Make a well in the middle of dry ingredients. Stir eggs and olive oil in with a fork. Turn onto a floured surface and knead with hands until it makes an elastic dough, adding more water if necessary.
Place dough in a large bowl and cover. Leave to rest at room temperature for 30 minutes.
Knead a few more times, then roll out and cut into thin strips. You can roll out thinly using a rolling pin and slice with a sharp knife, or use a mechanical pasta machine.
Transfer to a baking sheet and dust lightly with cocoa powder.
To cook, bring a large pot of salted water to boil. Cook for about 2 minutes. Drain and serve hot with your topping of choice.
Let us know if you have tried them!
Happy World Chocolate Day!