With winter fast approaching, it's the perfect time for you to get creative in the kitchen. Need a delicious pick-me-up to get you through the day? These four winter recipes are bound to keep you toasty warm and satisfied.
1. Spicy Coconut Pumpkin Soup
This Spicy Coconut Pumpkin Soup is creamy and full of flavour, zest and heat. Whether you choose to have it on its own or pair it with another dish, this soup is sure to tantalize your taste buds.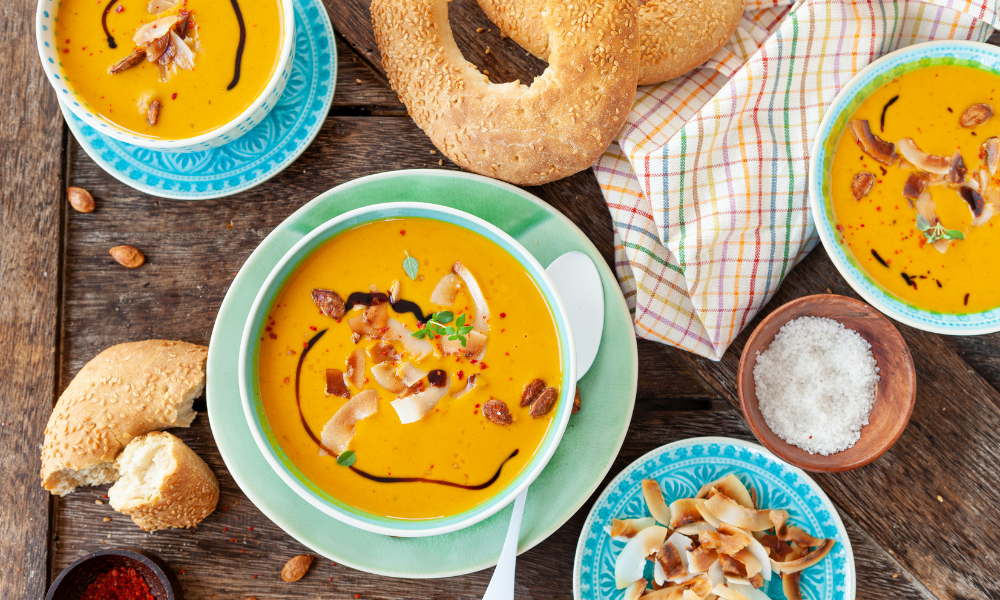 Ingredients:
1 onion, diced
3 garlic cloves
1 tablespoons fresh grated ginger
1 tablespoon olive oil
1kg kent pumpkin, diced
1 red chilli, chopped
1 teaspoon turmeric
1 teaspoon garam masala
400ml canned coconut milk
2 cups vegetable stock
Salt
Coriander
Method:
Add the onion, garlic and ginger to a medium saucepan and sauté in olive oil over medium heat for 2-3 minutes.
Add the turmeric and garam masala to the pan and stir for 1-2 minutes until fragrant.
Add the pumpkin, chopped chilli, coconut milk and then top with stock. The liquid should be enough to come ¾ of the way up the pumpkin.
Turn down the heat and simmer for about 15 minutes or until the pumpkin is tender.
Blend the soup until smooth using a stick blender. Add a pinch of salt for extra taste, then serve topped with fresh coriander leaves.
2. Chai Latte
This Chai Latte recipe has the sweet and spicy flavour you know and love, but with all-natural ingredients it is far healthier than what you get at coffee shops. Chai lattes are designed to warm you up, making it the ideal option for a rainy night in.
Ingredients:
2 cups almond milk (or milk of choice)
¾ teaspoon ground cinnamon
¼ teaspoon ground ginger
1/8 teaspoon ground cloves
3 tablespoons maple syrup
Method:
Combined the almond milk, cinnamon, ginger, cloves and maple syrup in a small saucepan over medium-high heat.
Whisk to combine, stirring regularly until the mixture is boiling hot.
Adjust any seasoning to your taste and serve immediately while still piping hot.
3. Strawberry Cheesecake French Toast
If you're craving something sweet for breakfast, look no further than this Strawberry Cheesecake French Toast. This delicious spin-off of classic French toast includes chunks of fresh strawberries and melt-in-your-mouth cream cheese, providing pure ecstasy in every bite.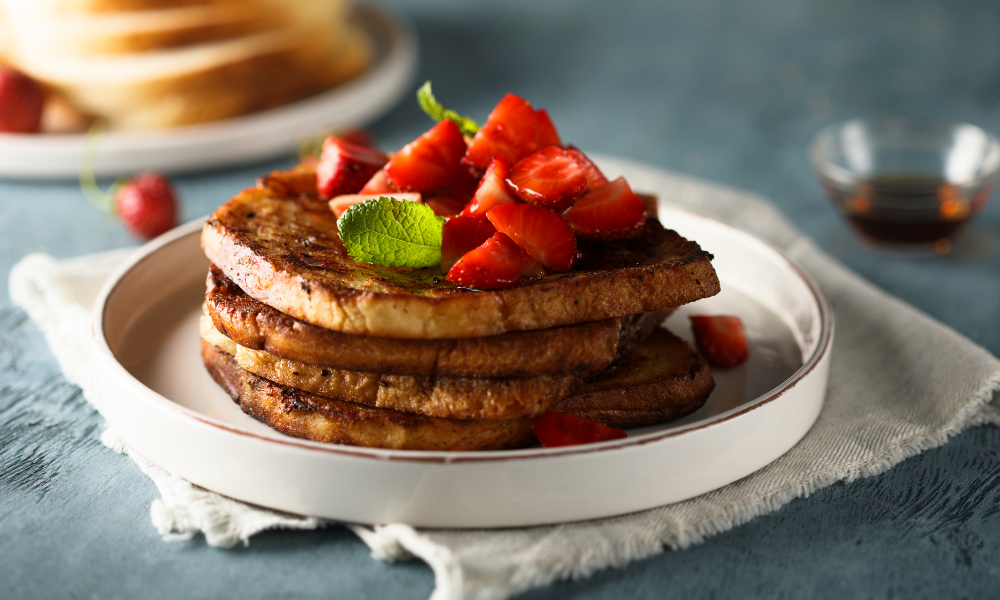 Ingredients:
3 eggs
¼ cup milk
½ cup pouring cream
250g strawberries, hulled, coarsely chopped
1 handful of blueberries
¼ cup caster sugar
200g brioche loaf
30g unsalted butter, chopped
125g spreadable cream chees
Topping ideas
Banana
Honey
Maple syrup
Whipped cream
Method:
Combine cream cheese, 1 tablespoon of caster sugar and one-third of the strawberries in a bowl. Cut the brioche loaf into 8 slices. Spread the mixture onto four of the slices leaving a 1cm border around the edges, then top with the remaining brioche slices.
Combine remaining caster sugar and strawberries with 125ml water in a small saucepan. Stir over medium heat for about 10 minutes or until sugar has melted and strawberries break down and form a sauce. Remove from heat and set aside to cool slightly.
Whisk together eggs, milk and cream in a large bowl. Place brioche sandwiches in a shallow baking dish. Pour egg mixture over the sandwiches and set aside for 2 minutes to soak. Turn sandwiches over carefully and soak for a further 2 minutes.
Melt half the butter in a non-stick frying pan over medium heat until it begins to bubble. Cook sandwiches in two batches for 2-3 minutes each side or until golden brown.
Slice the sandwiches and serve with strawberry sauce, blueberries and a dusting of icing sugar.
4. Nutella Hot Chocolate
Individually, chocolate and Nutella are enough to make anyone's mouth water. Together, it'll send you to choc-hazelnut heaven. It's quick to make and is frothy, warm, cozy, creamy, chocolatey – you get the idea. The best part is you get to lick the Nutella off the spoon afterwards!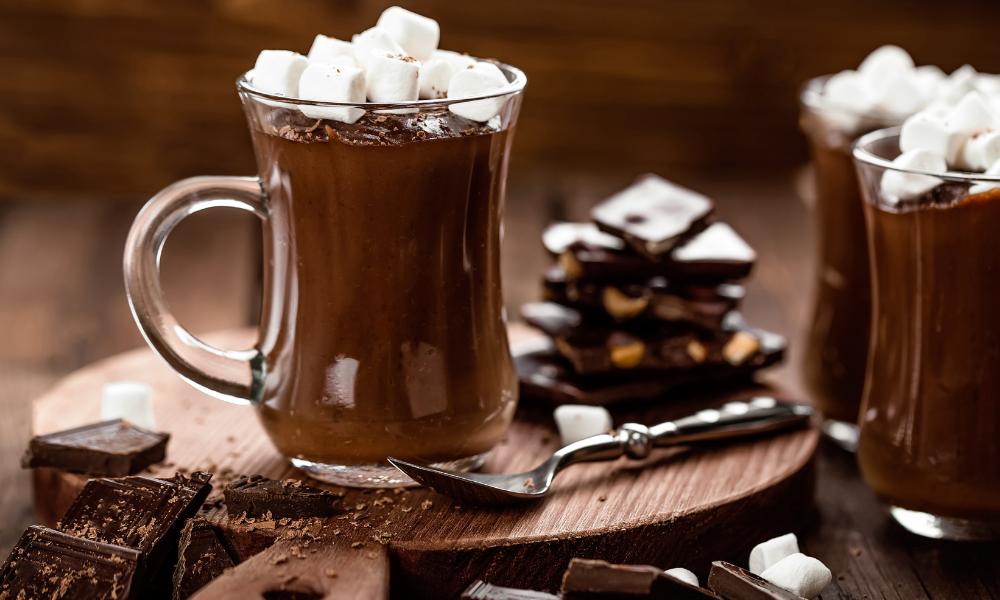 Ingredients:
4 cups milk
2 tablespoons Nutella
2 tablespoons unsweetened cocoa powder
2 tablespoon sugar
Topping ideas
Marshmallows
Crushed hazelnuts
Chocolate chips
Extra Nutella
Method:
Heat milk in a saucepan on medium-high heat until it begins to warm and steam.
Add in Nutella, cocoa powder and sugar, then whisk until it's dissolved and combined.
Bring to a gentle simmer while stirring and take off heat.
Serve with your desired toppings.