Every day, most of us spend more than 5-6 hours sitting at our desks. We spend our entire day in front of computer screens and it's likely that we use the keyboard and mouse for longer than any other piece of equipment, probably even more than our phones!
We know how important ergonomic chairs are to protect our neck and back, but what about the mouse and keyboard that we use? Most of us pay so much attention to the actual computer that we buy, preferring to spend money on the latest graphics cards, printers or the CPU. Yet, so little attention goes into the items we physically interact with, like our keyboard and mouse?
Repetitive movements such as typing on a keyboard, and scrolling with a mouse can overstretch our hands and fingers, while straining our wrists. Investing in an ergonomic keyboard and mouse is more than a technical upgrade; it's an investment in your health.
What is ergonomics, and why is it important?
To be clear, buying ergonomically designed office equipment is unlikely to heal a current injury and does not guarantee that future injuries will be avoided. However, ergonomically designed workplace equipment may help to reduce the discomfort related to an existing injury or pain and can even lower the chances of suffering a new one.
Choosing an ergonomic mouse and keyboard, one that contours to your hand shape and adjusts to the position and movement of your wrist can help maintain the best possible alignment of your body, and can help to relieve or eliminate the pressure put on major nerves. You'll not only feel better throughout your workday, you might even boost your productivity.
Here are some things to consider while shopping for an ergonomic keyboard and mouse:
Keyboard:
· Ergonomic design: An ergonomic keyboard is designed to keep hands and wrists in a natural position for typing.
· Split keyboard: A split keyboard is designed to straighten wrists and arms to be in a more neutral position. But if you haven't used one before, be warned – they take some time to get used to.
· Wireless: A Wireless keyboard allows you to work on a document even when you are away from the computer.
· Extra function keys: Choose a keyboard that has extra function keys to speed up your tasks. A perfect and easy way for launching apps, controlling volume, music player, etc. These keyboards also incorporate special character layouts and customizable shortcut keys which come very handy at times.
· Compatibility: Nowadays, most keyboards connect to computers via USB ports. Make sure the keyboard is compatible with your system as some keyboards need some software installed on your computer to use the function keys.
· Keystrokes: Make sure you check the keystrokes when you are buying a computer keyboard. Choose a keyboard with a sensitive, light, feather-like touch, to avoid putting pressure on fingers while typing.
· Customisable: Some ergonomic keyboards feature vertical "tenting," which means you can adjust the angle of the keyboard halves. In some models, you can also tilt the entire keyboard up or down.
· Wrist/Palm Support: Look out for padded palm rests at the front of the keyboard as it offers extra support to the wrists.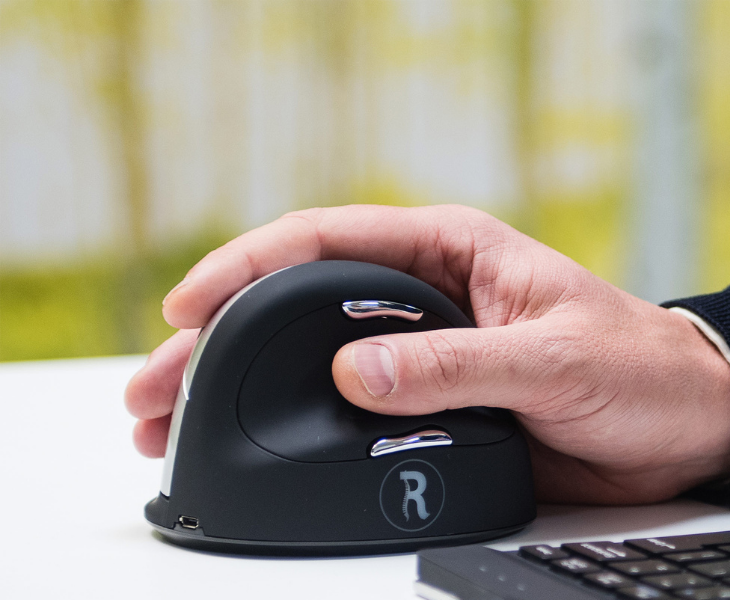 Mouse:
· Size: The size and shape of the mouse are important to consider. Choose a mouse that comfortably fits into the contour of your hand and ensures your hand remains in a neutral and relaxed position. If you use a mouse that is too large or too small, your hand will be forced into unnatural positions that may result in pain and damage.
· Weight: If possible, try a few differently weighted mice to see which is best suited to you.
· Go for wireless: A wireless mouse will help you to effortlessly move the mouse to the right, left, or in front of your keyboard. It helps to keep the mouse close to your body to reduce the strain on your shoulder.
· Connectivity: Most mice feature a wireless option if you like to keep your desk free of annoying wires. But keep in mind the battery life. A short life might annoy you more than a wire would.
· Height: Choose a mouse that maintains the natural arch between your hand and wrist.
· A vertical mouse: Unlike a traditional mouse, a vertical mouse keeps your hand in a 90° position, a "handshake" position to hold it. So, no twisting of the wrist! If you haven't used a vertical mouse before, it will take some time to reach the same level of ease as a traditional mouse.
· Trackball: An ergonomic mouse with a trackball is what you need if you prefer to use your fingers to move the cursor around. No need to move your arms, so there's less strain on the muscles.
Check out our large range of ergonomically designed keyboards and mice, and if you have any questions, contact the COS team for assistance on 1300 88 22 44.
COS tips
Give your dominant hand some time to relax and try swapping your mouse to your less dominant hand. Yes, it will feel awkward at first, but you will get used to it.
Also, consider buying other accessories as gel-based palm and wrist support for keyboards and mice that can help you maintain an optimal position and limit strain.