If you have some extra tea bags handy and you're looking to keep yourself hydrated this summer, keep reading because we've put together some refreshing tea-based recipes you can try at work. Indulge in a comforting Vanilla Chai for something decadent and delicious, a refreshing Coconut Iced Tea to keep your cool on a busy day, or a Peach Ginger Iced Tea, when you crave something sweet and flavourful. If you're looking for something tangy and pulpy, check out our easy Mango Iced Tea! With just a handful of ingredients, your delicious beverages will be ready to serve.
A delicious spiced tea, based on an ancient Indian recipe, the comforting and familiar flavour of warm Chai comes with many health benefits for your mind and body.
3 tsp loose-leaf black tea
1 ½ cups cold water
1 vanilla bean, halved lengthways
1 cinnamon stick and 1/2 tsp ground nutmeg
4 cardamom pods
3 1/3 tsp white sugar
1/2 cup mil
1. In a saucepan, combine all ingredients except for milk. Bring to a boil over medium-high heat. Reduce heat to medium-low. Simmer and stir for five minutes.
2. Slowly add milk. Simmer and stir occasionally for five minutes or until hot.
3. Strain tea into two heatproof cups, mugs or glasses.
4. Serve hot, topped with extra cinnamon powder.
This delicious iced tea packed with electrolytes will help you keep your cool on a stressful day, with a fresh tropical flavour that is sure to be a crowd-pleaser around the office.
2 black teabags
1/2 lime, thinly sliced
Generous sprig of fresh mint
4 cups coconut water
Honey or sugar to taste, optional
1. In a jug, add tea bags, sliced lime, mint and honey or sugar.
2. Heat coconut water on the stovetop or in the microwave, without allowing it to boil.
3. Pour hot coconut water into the pitcher/jug, allow to steep for 15 minutes. Then remove tea bags.
4. Place finished iced tea into the fridge and leave flavours to release for 3-4 hours until completely chilled.
5. Serve over ice with additional fresh mint and lime slices.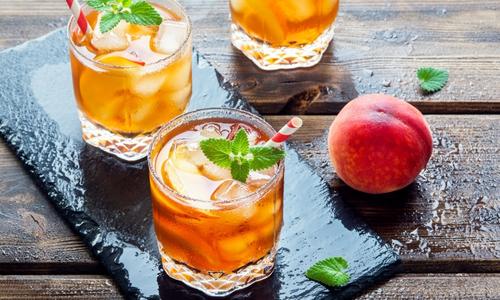 Peach Ginger Iced Iced Tea
This Ginger Peach Iced Tea recipe creates a cool, refreshing glass of iced green tea, which is naturally sweetened with fresh peaches and flavoured with ginger and honey or maple syrup.
2 medium ripe or frozen peaches,peeled and sliced
3 green teabags
4 cups steeped green tea (use loose green tea leaves or tea bags)
Fresh ginger, finely sliced
2 tablespoons maple syrup or honey
1. In a mason jar or a jug, add sliced peach.
2. Finely slice ginger. Then, skewer the sliced ginger on a toothpick to make it easier to remove later, and place it in the jar/jug.
3. Pour hot water into the mason jar or a jug, put the tea bags in and allow it to steep for 15 minutes. Then, remove the tea bags.
4. Add honey or maple syrup on the top and stir well. Place into the fridge to completely chill for 3-4 hours for the flavours to release.
5. When you're ready to serve, garnish with a few strawberries or raspberries.
Try this refreshing Mango Iced Tea, it's sweet, fruity, and full of flavour. On a hot day, mango tea will soothe yourspirit while also keeping you energised and productive at work.
2 cups water
2 black tea bags
2 ripe mangoes
1/4 cup honey
Fresh mint
1. Peel the mangoes and remove the pit. Place one mango into a blender and keep the other mango for garnishing.
2. Mash the mango with a spoon until very smooth and pour it into a pitcher or jug.
3. Place the tea bags in the water and bring to a boil. Allow the tea to steep for 5 minutes. Remove and discard the tea bags.
4. Pour the brewed tea into the pitcher with the mango juice. Add honey and mix it well. Place the pitcher of tea in the fridge to chill.
5. Serve it with fresh mint and extra mango slices.